by Alyssia Birnbaum
So much of the Dallas-Fort Worth food scene is determined by the newest and best location with the latest in organically and locally grown produce. These places usually have a great vibe, a good bar menu, and excellent food, but they're not exactly the best place to bring your kiddos out with you for a meal. However, there are some diners and classic locations in Dallas that deliver on both food quality, atmosphere, and kid-friendly menus. You shouldn't have to skimp on flavor just because you're traveling with a circus instead of dining a deux anymore. Here are some of my favorites:
Highland Park Pharmacy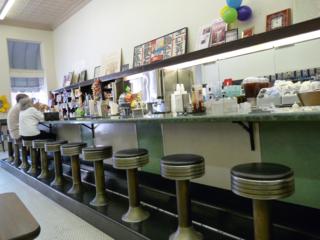 Located At: 3229 Knox Street, Dallas, TX
Food and Atmosphere: When you walk into Highland Park Soda Fountain, you're transported back in time. They celebrated their 100th anniversary this year and it looks like they're going strong into the next 100.vThis is good, old fashioned soda fountain food. They're famous for their salads- not the kind you're thinking. Think ham, tuna, or chicken, mixed together with just the right amount of mayonnaise and served with a slice of American Cheese on toasted bread. Their egg creams and phosphates are made to order right in front of you and their shakes? To die for. You just can't question the authenticity of a place with kitchen tools that look like they were in the original store!
Some dishes not to miss: The tuna melt, a chili dog, and a strawberry shake- all top notch and sure to please your kids. I'm a girl who likes a simple tuna salad with not too much mayo and celery diced up small. They get it right and don't make it into spackle. The chili is hot, beefy, and it tastes like cafeteria food got a good makeover. The shakes are simply made with only ice cream, milk, and syrup. You gotta appreciate a straightforward dessert- and take comfort in knowing your kids aren't downing a vat of preservative-ridden lard.
Don't be fooled by the young, sweet faces of their waitresses because they are no amateurs. They take your order like pros and they know the menu backwards and forwards. It's wonderful to see grandparents walking in with their young grandchildren and ordering root beer floats to split. Thanks to the casual atmosphere and the stools at the bar as well as tables and chairs, it's easy access for parents with young tots or kids in their travel seats. It's a trip back in time worth taking. And it wouldn't be Dallas if there wasn't a row of Lexus SUVs parked outside for you to see when you're transported back into present-day.
Keller's Drive In


Located At: 6537 East Northwest Highway Dallas, TX 75231
Food and Atmosphere: The best part about the atmosphere, and maybe the worst part for some, is that Keller's is what you make it, because you eat inside your own car. If you've got a car designated for kids to eat in, and a car that doesn't permit food, remember to take the crumb mobile that day. You'll need it! Drive up to Keller's, and you're back in high school, sitting in the parking lot with your friends and eating a juicy burger like calories don't exist. In a place where time stands still, you can pretty much guarantee that calories don't exist here, either. I've never seen a single pound of weight gain from Keller's, and that is because it is food for your soul. Try to get a parking spot near the menu, because it's a little hard to see, and if you can't, then do a drive-by or ask a waitress to help. Turn on your blinkers when you're ready to order, and a seasoned pro will come over, greet you, and take your order.
Some things not to miss: The #5 (two patties, two slices of cheese, special sauce, tomato, lettuce on a toasted poppy seed bun) is just as good as it gets. In-n-Out Burger's Animal Style is the grandson of this burger…and he did NOT get his grandpa's good looks. It's wrapped up in a nice amount of paper to catch the juice and it's so good you might want to order another. Thin patties cooked perfectly are always great with their tater tots that are golden, crispy, and the perfect temperature. If you're not the driving parent, you can even make your night more interesting, because they serve beer. You're welcome.
I've seen semi-truck drivers pull up to Keller's on a Sunday, order a couple of burgers, and share them with their daughters in the cab of the truck. It's the best place to spend a low-key Sunday without having to get out of your pajamas and enjoy a delicious meal. Take your kids and they will take their kids there- I say this as a wife of a man who was taken to Keller's by his father and grandfather and still wants to come back every weekend. I'm not complaining.
Spiral Diner
Located At: 1101 N. Beckley, Dallas, TX 75203
Food and Atmosphere: Hear me out. Spiral Diner is a vegan restaurant, but it is really a lot more than that. In a world where gluten-intolerant children are becoming more and more prevalent, this place has a delicious, healthy menu for your children and they still sell soda, cake, and cookies. It's not easy being the parent of a child with any sort of food allergy, and eating out can be quite a chore, so take a break and head to Spiral. Lining the booths are durable knick knacks and books for your kids or you to peruse while you wait. Distraction while waiting for food is never a negative.
Some things not to miss: Pure cane sugar or agave sweetened sodas are in high demand at this place. The self-serve soda fountain is a foodie's dream. They also have specialty limeades on the menu that are sweetened with a little coconut syrup. I am personally a huge fan of the "Ate" Layer Burrito, which is the perfect blend of Mexican spices and so many different textures that you don't even realize you're not eating it with meat. The Cowboy Burger has delicious vegan bacon bits and onions- add cheese and avocado for a real treat! I promise you will never know you're not eating real cheese. Their Sketti and Meatballs is perfect for a picky eating kiddo. Flavorful and tastes just like the real thing. Ask for a gluten free option on the noodles to really treat your kid if they've got gluten intolerance. The noodles are cooked to perfection and are such a good way for your little one to not feel left out because of their gluten allergy!
Say what you will about vegan food, but when it is prepared properly, it tastes delicious and you won't leave feeling bloated, full, or sick to your stomach. Your kids will thank you and ask to come back! Psst….PS- if you love amazing French confections after your vegan meal, walk next door to Rush Patisserie. Samantha is the pastry chef and owner and she's got some incredible desserts in there! French macarons and her famous un-cupcake are both wonderful specialties, but be sure to go in the late afternoon, as she has a day job and tends to keep later hours.